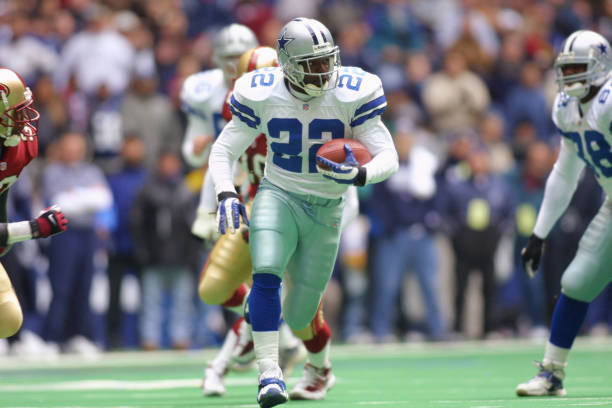 Photo credit: Ronald Martinez / Getty Images
Author: Jon Kuzma
The end zone is where it all goes down in the sport of football. A touchdown is 6 points for your team and you achieve that by crossing the goal line and getting into the end zone. With so many great player coming through the National Football league we decided to take a look back at some of best scoring players the league has ever seen.
Quarterback position (king of end zone):
When it comes to the quarterback position nobody has thrown more touchdowns strikes than Peyton Manning. Manning threw an impressive 539 passing touchdowns and that is 31 more than the 2nd guy on the list which is Brett Favre with 508 passing touchdowns. Manning was simply superior than every other quarterback that played the game touchdown wise and it was because of his deep understanding of the game. There was no better quarterback in NFL history at reading defensive coverages and knowing how to attack that particular coverage. While most quarterbacks cave to the defensive pressure, Manning seemed to thrive in it. He would look off safeties and then throw it right where that safety had just moved from. It was the mental side of the game that Manning dominated in and that helped him become the most prolific passer when it came to scoring touchdowns. Manning did it all on the football field and he deserves to be recognized for turning the National Football League in to a passing league.
Running back position (king of end zone):
There have been many great running backs that have came through the National Football League but none have scored more touchdowns than Emmitt Smith. Smith helped the Cowboys win 3 Super Bowls and he also compiled 164 rushing touchdowns. There nothing Emmitt Smith couldn't do on the football field and that's really why he finished with more touchdowns than anybody else. Ladainian Tomlinson is 2nd on the list with 145 rushing touchdowns and the fact that Smith is 19 touchdowns betters shows just how gifted Smith truly was. During the Dallas glory years they had a great offensive line but don't let that fact downplay Emmitt Smith's production, he was a tremendous player and earned the right to be the all time scoring leader as far as running backs go.
Wide receiver position (king of end zone):
If you're looking for a receiver that can find the end zone look no further than Jerry Rice. Jerry Rice recorded an amazing 197 touchdown receptions. That is 41 more touchdowns than Randy Moss who is 2nd on the list and Rice achieved this with hard work and determination. Jerry Rice was reluctant to work with other players because he felt like they would understand his methods and he would loose his edge. Rice often chose to isolate himself and put his entire focus on his work ethic. After playing division 2 college football Jerry Rice would go on to become the most polished wide receiver to ever play pro football. A hell of a feat for the Mississippi kid.
Charity of the day: Make A Wish Foundation
Go donate! www.wish.org